CHECK OUR SCHEDULE PAGE FOR UPCOMING SHOWS
COOL THINGS ARE BEGINNING TO HAPPEN,
SUPER GLAD TO BE DOING SHOWS AGAIN
WAS BEGINNING TO THINK WE
WOULD BE LOCKED DOWN ALMOST FOREVER.
ALIEN RECON WILL BE ROCKING WESTSIDE AGAIN!!
HOPE WE SEE YOU THERE!
THURSDAY MARCH 9TH 2023
AT WESTSIDE STATION
610 EDGEWATER ST.  SALEM OREGON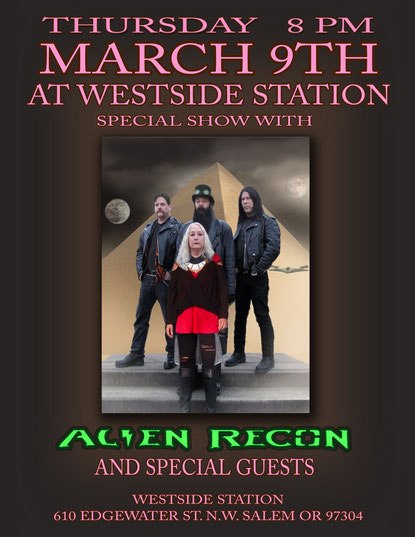 WRITING SONGS AND BEGINNING TO RECORD ALBUM # 4
DEFINITELY BEGINNING TO GET
RATHER EXCITED ABOUT THE SONGS. 
LOOKING FORWARD TO SEEING
FANS, FRIENDS AND FAMILY.
DEFINITELY GOING TO BE
LOTS OF FUN FOR US.
LOOKS LIKE 2023 IS GOING TO BE AMAZING!!